Misty Bruce
CFO / Business Manager / Web Developer
Hello there, Misty here, creator of this website and many others. I'm the co-owner of Upgrade Taos Computers, and mom to my special-needs boy. I have accumulated a wide variety of skill sets from computer programming and accounting, to graphics design and web development, which help me to run my business as best as I can.
I'm passionate about running my computer repair business. I spend most of my days answering the phone and scheduling appointments. I have become quite good at phone support and I am happy to answer computer questions and provide basic phone support for no charge at all. I manage all the bookkeeping and all of our promotions such as radio ads, the website and being active on social media.

I developed my first website in 1996, it was a personal site on Geocities. I am self-taught and can write web code, from scratch, in at least ten different programming languages. I enjoy the independence in coding and testing and I get much satisfaction when hundreds of lines of code works! I specialize in WordPress Content Management System; I develop custom plugins and themes. I have a lot of knowledge about SEO (Search Engine Optimization). I am proficient in graphics design. I also dabble in video production and have created several local commercials.
Growing up, I was the black sheep and sought to leave home as early as possible. I was emancipated and set out from my hometown in central Pennsylvania to New Mexico via Greyhound bus when I was seventeen. A year later I had my first child who was later diagnosed with Autism Spectrum Disorder. Raising him has certainly been challenging. They say it takes a whole village to raise a child, I know just how true that is.
I earned my high school diploma, then my Associate of Arts in Graphics Design from New Mexico State University. I paid for it all myself by working at a Super Wal-Mart 1-hour Photo Lab.
I moved to Taos when I was twenty. I worked many Taos jobs over the years including Domino's Pizza, Copy Queen, Angel Fire Resort, Kachina Lodge, Hampton Inn, the Comanche Inn and Taos Community Health Plan. In 2003 I got a job as an Accounting Associate for James Steffens, CPA, where I learned invaluable skills in bookkeeping and became a Certified Quickbooks ProAdvisor.
Mike and I started Upgrade Taos Computer Solutions in 2005, each chipping in $50 to open a business bank account. With our combined skills, we grew our business from the ground up. I married
Michael Bruce
in 2010 after we dated for 9 years.
It took ten years of saving money and building credit, but in 2015, we purchased our Taos home on Cruz Alta and built an electronics / computer workshop in our garage. We'll continue to offer excellent computer repair service and plan to expand into electronics repair.
I truly believe Taos is where I belong. I feel an overwhelming sense of community support and I am so grateful for it. The mountain has accepted me, so this is where I'll stay.
My other hobbies include, hiking, running, dog training, fish keeping, cooking, gardening, roller derby, playing guitar and piano, spinning poi, and working out to Body Pump.
Adobe Photoshop

97%

97%

CSS

97%

97%

Content Management

97%

97%

Data Analytics

92%

92%

Database Administration

96%

96%

Graphic Design

84%

84%

Microsoft Office

96%

96%

MySQL

87%

87%

PHP

90%

90%

QuickBooks

97%

97%

Video Editing

88%

88%

Web Development

98%

98%
As a one-woman web production team, I can only take on one website at a time. Contact me for availability and pricing.
My Latest and Greatest Web Projects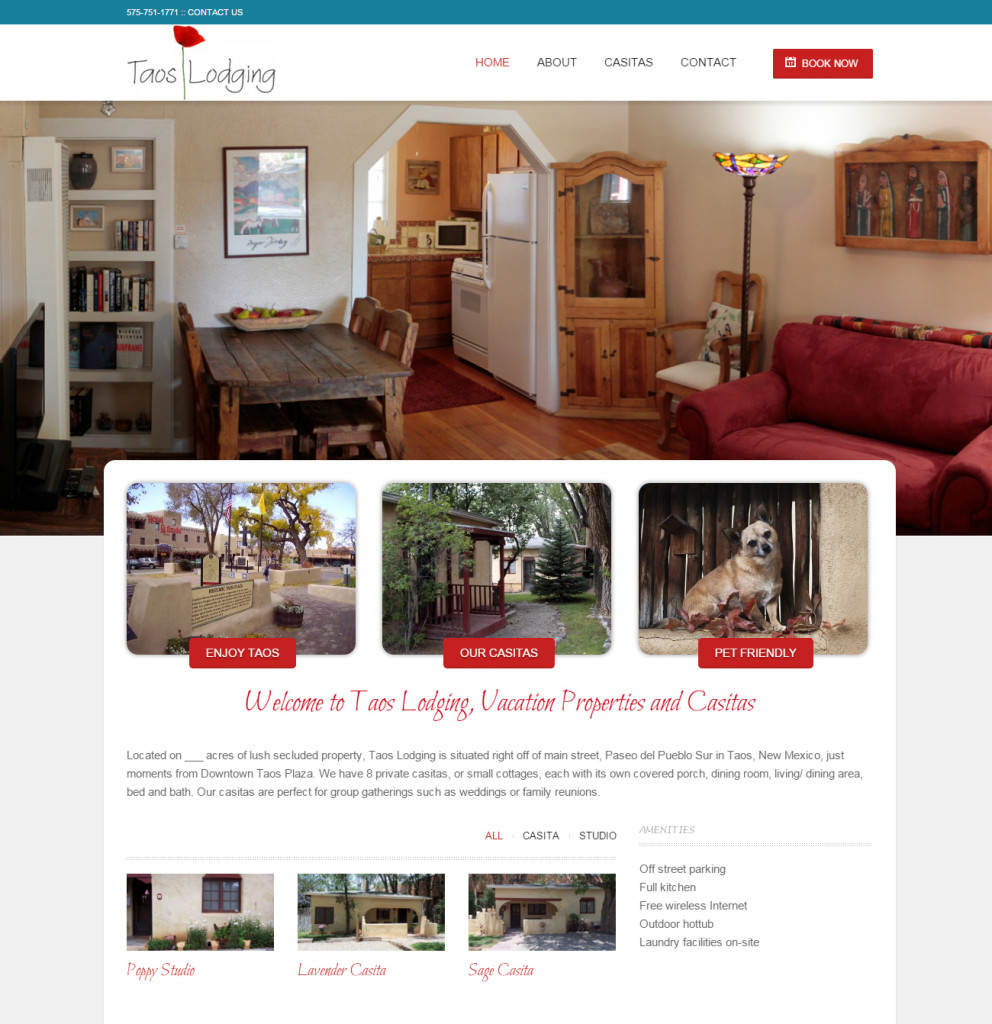 For my latest project, I created this sleek modern website which features a responsive, mobile-ready design and an eye-catching fill-width slideshow. Complete with online booking system without ever leaving the site. I'll be watching it closely as it climbs up in Google ranking.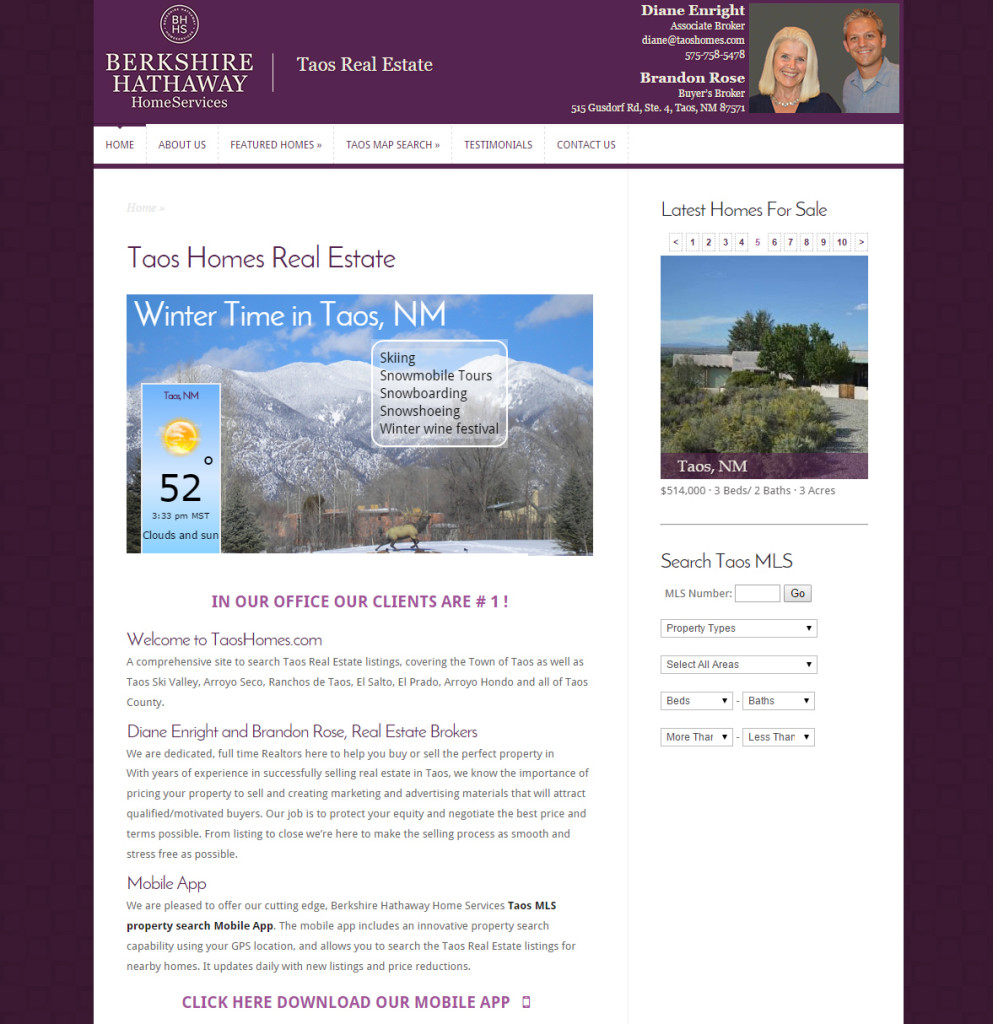 No need to spend hours every week updating their listings, this awesome new website updates the agents' listings automatically, straight from the Taos MLS database. I also created a custom, searchable map which is beautiful and functional at the same time.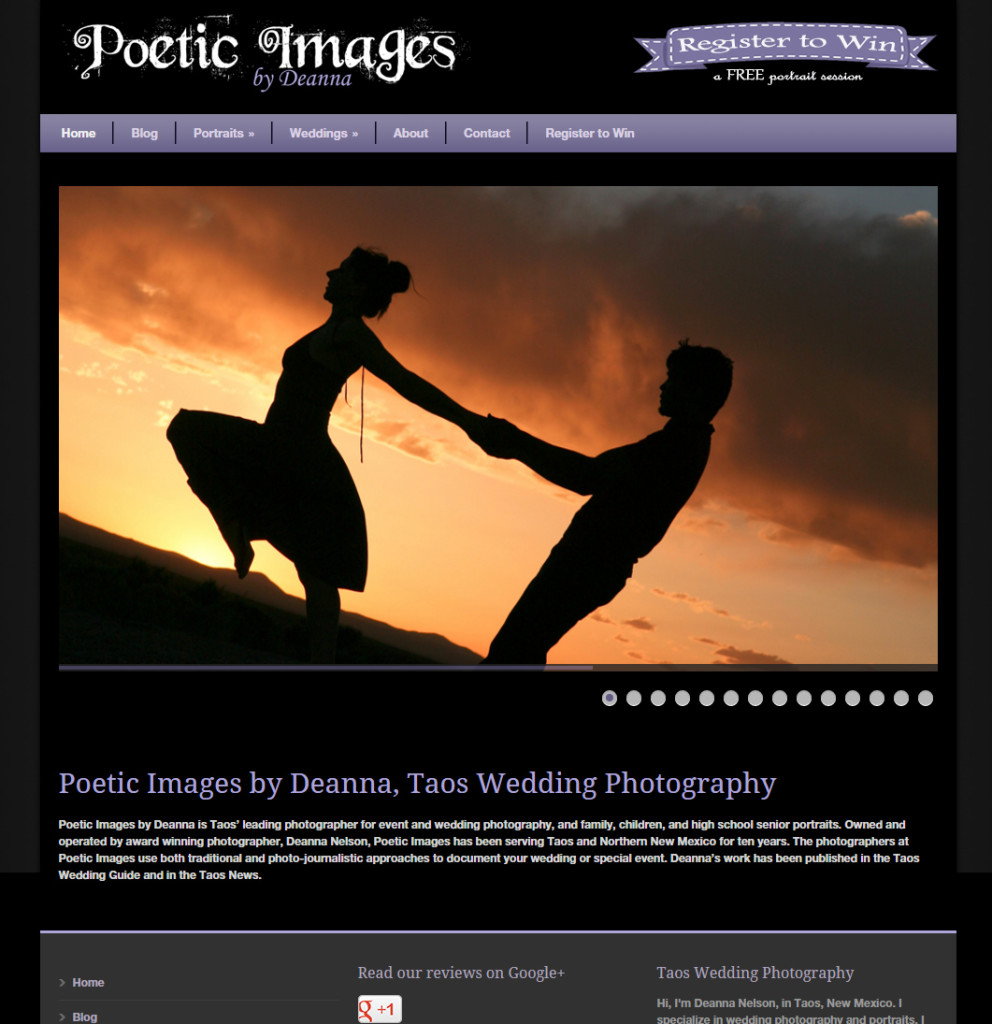 It's no coincidence that this site comes up #1 on Google for Taos Wedding Photographer related searches. I keep it updated with all the latest Search Engine Optimization techniques to maintain its position at the top!