Michael C. Bruce
CEO / Technician / Engineer
Mike has 20 years of experience as an Information Technology Specialist and Systems Network Administrator. He has expertise knowledge of Windows operating and server environments and is quite knowledgeable about most other operating systems as well. He's not just a software guy though, he knows hardware too, intimately, down to the solder that flows through its traces.
Michael's intense interest in computers started at a very young age, influenced by his father's technologically advanced career. Mike's dad, Thomas Bruce, moved the Bruce family to Taos in 1980 and started a career with the U.S. Forest Service. Mike's mom, Adelaide, operated a successful business in Taos for 35 years, a child care group helping to raise hundreds of children in Taos!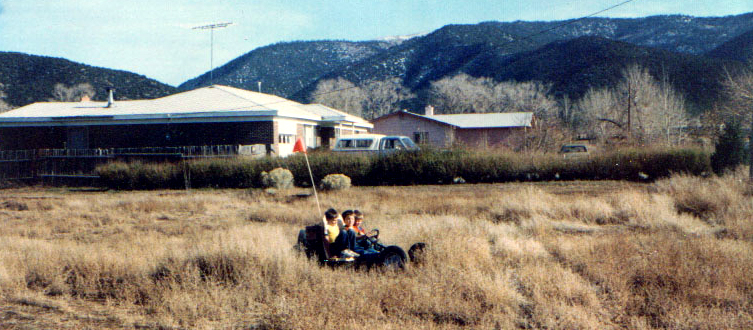 Mike grew up in Taos, from elementary at St. Francis Catholic School to graduation from Taos High School in 1993. He attended college at New Mexico State University in Las Cruces, NM from 1993 to 1997. His first entry-level IT job was in the late 90's for an Internet company called Infantelligence, based out of Taos, just around the time of the dot-com bubble. Mike quickly learned that working for a big company was not his cup of tea, and decided to start his own computer repair business.
The first computer repair business he started by himself was called 'The Computer Dude' and the second one was with one of his long-time friends called 'Taos Computer Works'. It turned out to be too difficult to start a computer business in the late 90's with the wide-spread fear of the Y2K bug which caused people to be put off by computers and technology.
Mike also turned away from computers at that time to learn skills as a plumber's apprentice. Mike worked under his good high school friend at Gibby's Plumbing and Mechanical for 3 years before returning to the computer industry.
During his plumbing years, Mike met Misty through an Internet chat program called ICQ. They quickly hit it off and started a serious relationship in 2001 which developed into marriage by 2010.
Mike and Misty started Upgrade Taos Computer Solutions in 2005, each chipping in $50 to open their business bank account. They built the business from the ground up, it took ten years of saving money and building credit, but the couple finally purchased their own home in Taos in 2015.
Mike has a green thumb and enjoys helping out in his parents' beautiful garden. Mike has real fondness for Taos and he appreciates the lifestyle it affords. He loves the outdoors and spends his free time hiking in the nearby mountain ranges; after all, his middle name is Cañon. Mike raises his autistic step-son and plans to have some children of his own soon.
Mike's hobbies include; mountain trekking, gardening, playing guitar and photography.
Data Recovery

96%

96%

Hardware

100%

100%

Microsoft Office

100%

100%

Networking

97%

97%

Repairs

99%

99%

Servers

98%

98%

Smartphones

99%

99%

Systems Administration

100%

100%

Tech Support

100%

100%

Troubleshooting

100%

100%

Virus Removals

99%

99%

Windows Systems

100%

100%